Clinics & Events
Below is a list of available Horse Riding Clinics and other Brookfield Farms events.
Brookfield Farms is excited to announce we will be hosting a clinic with Grand Prix Dressage rider Leif Aho!

May 17-19, 2019
This clinic is open to the public for riding, as well as auditing. Leif has worked extensively with equestrians in the hunter/jumper community in Wellington, Florida working on their riding and biomechanics. Definitely an opportunity you and your horse don't want to miss out on! Contact us soon to reserve your spot.
Click here to download signup sheet (print and mail application).
Clinic with Leif Aho
Leif Aho is a FEI dressage trainer and USDF Gold, Silver and Bronze medalist, earned on self trained horses. Leif specializes in teaching correct rider biomechanics to achieve a horse and rider that are working together that are very balanced and classically trained.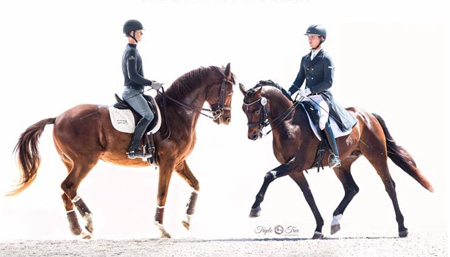 Leif will help you make small adjustments that make a huge difference in your effectiveness and your horse's balance. He uses word pictures and analogies to help you understand complicated movements and position adjustments in a simplistic way.
Leif has been training with Pan American Gold & Silver medalist, 2012 Olympian, Heather Blitz since 2011 as well as world renown bio-mechanic specialist, Mary Wanless. Both Mary and Heather have made a huge impact in his riding, training and teaching that he is able to pass along to his students and horses.
Leif has extensive experience training a variety of types of horses including Green broke to the Grand Prix, baroque to pony and has been able to bring out the best in all of them in a gentle and kind manner. Winter 2018 has been a successful season for Leif with the Oldenburg stallion, Classy Sinclair in the Prix St. Georges & the Intermediare-1 with scores often in the 70's and placing in the top of large classes; Leif is now aiming towards international competition this summer with Clasy Sinclair and the Grand Prix next winter season.
For more information on current clinics, please contact us.